This is our homage to a golden age made of nutella sandwiches, marbles games, trips to mysterious sites, discovered feelings, coming out and play, good music and good movies. Where videogames were magic made of dots in a screen which changed our life for ever. This led to this game we've humbly tried to reinterpret.
A time and way of understanding life. You might call it nostalgia.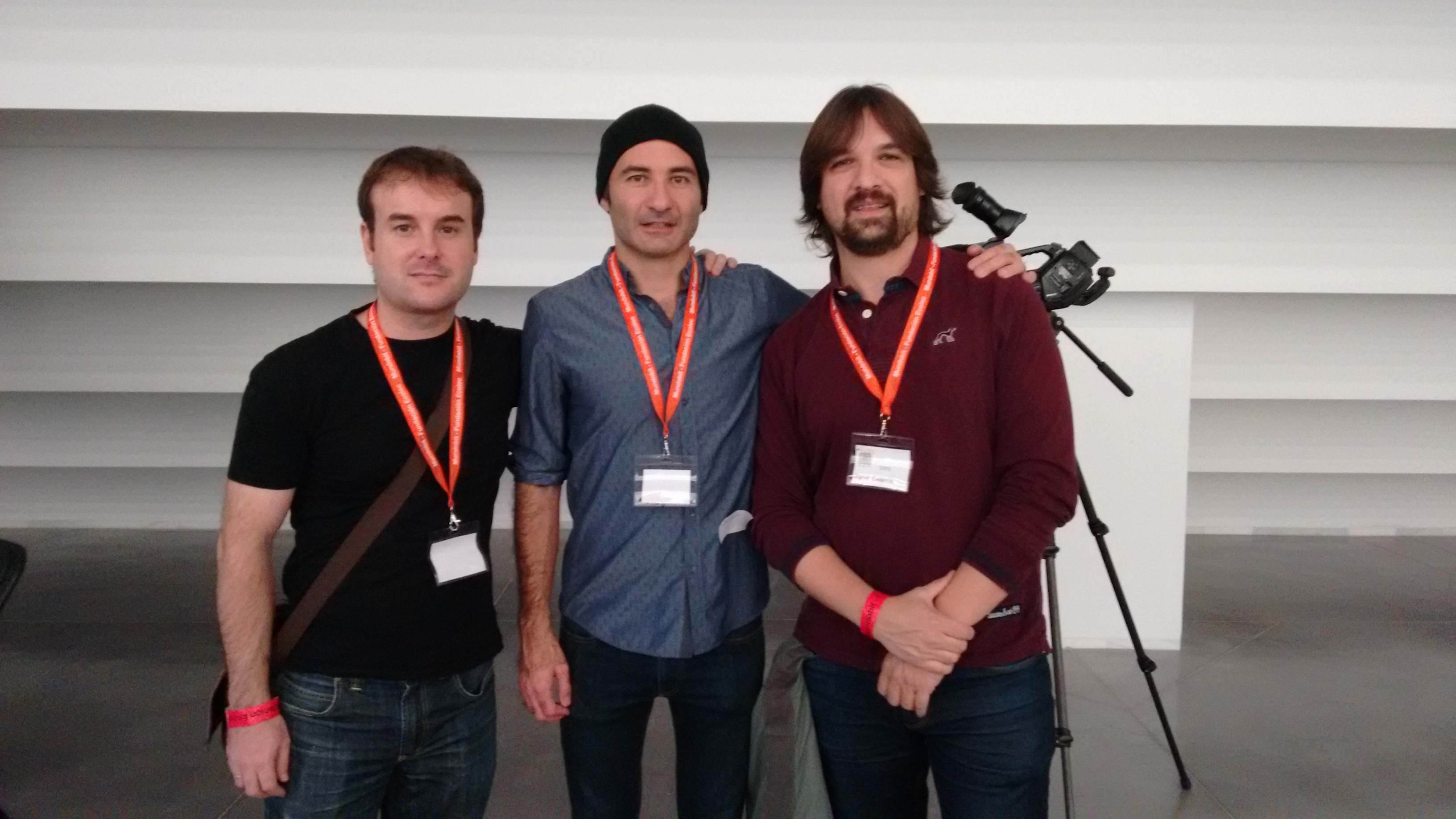 Left to right: Manuel Pazos, Juan Delcán, Daniel Celemín (Retro Barcelona 2014)
Based on the game "LA ABADÍA DEL CRIMEN" (The Abbey of Crime)
created by Paco Menéndez and Juan Delcán in 1987
PROGRAMMING
Manuel Pazos
GRAPHICS
Daniel Celemín
LOADING SCREEN
Antonio Giner
Daniel Celemín
FINAL SCREEN
Juan Delcán
MUSIC
David Cañadas
TEASER TRAILER PRODUCTION
Christian Catalán
TEASER VOICE OVER
José Maria Carnicero
TRANSLATION
Augusto Ruiz
TESTERS
Sandro Celemín
Javier Pazos
Augusto Ruiz
Fran Loscos Gil (Metr81)
GREETINGS
From Daniel Celemín:
I would like to thank my whole family, for bearing my ups and downs, my wife Emma, my two sons, that haven't stopped singing the teaser tune since we made it, and tested the game… Sandro, "press Z", and Hugo: "No"… Thanks Dani for working at the beginning of this idea… and Manuel, because I finally won him over, and he agreed to work in this project!!!… I've spent so many years making this game that I would have to thank all of the people who have shared this time with me… but I don't have the space. Thank you.
From Manuel Pazos:
To my wife, Raquel, and my children, for letting me invest my scarce spare time in this project, instead of spending more time with them.
To my brother Javi, for always being there, listening to my ramblings, sometimes not understanding what I was telling him.
To Antonio Giner for going along with me and helping me putting and removing some stones from the abbey's walls.
To VIGASOCO, for his excellent work.
To José Antonio Morales for always attending me with a smile, and lending me the original game cover.
From both:
To Paco Menéndez and Juan Delcán for creating The Game.
To Retroworks members for their comments.
To our friends, colleagues, acquaintances and followers, who have supported us all these years.
To Jaume Esteve and Enrique Collinet for their help.
In memoriam Paco Menéndez
"Genius die in the shadows, not knowing of their magic"
In memoriam Umberto Eco
Unknowingly, his work left his mark on a whole generation.